Australian best smoke alarms
Due to the changes to the Queensland smoke alarm legislation impact your home or investment? Don't put your family or investment at risk. Smoke alarms save lives!
Do the changes to the Queensland smoke alarm legislation impact your home or investment?
Don't put your family or investment at risk. Smoke alarms save lives!
Bribie Electrical is a locally run family owned business specializing in all electrical services. Including the installation, maintenance and upgrading of Smoke Alarms.
We are committed to providing electrical and smoke alarm solutions to the highest possible standard while maintaining our friendly and reliable customer service. We ensure we are up to date with all current regulations and legislation. We are also fully licenced and insured giving you the peace of mind you are in safe hands.
From the 1st of January 2022 all Queensland properties that are sold or leased must have interconnected photoelectric smoke alarms installed in every bedroom, connecting room and on every floor. This will also be the case for owner occupied homes by 2027. These alarms create an effective fire detection system in every property to save Queensland lives.
If your property has gone through significant renovations or is a new build you may be required to upgrade your smoke alarm system now. Take advantage of tax benefits and upgrade now.
Don't risk it. Leaving your upgrade to the last minute could result in non compliance due to the increasing demand on electrical contractors. Properties not upgraded by 2022 will not be eligible for sale or lease renewal.
Eliminate the risks involved with non compliance, including dismissal of insurance claims, personal injury or worse.
Contact our friendly team to arrange a smoke alarm compliance inspection or upgrade. For more information download our guide for installations and pricing.
Bribie Electrical are a preferred & trusted contractor for multiple real estate agencies.
Let us assist you in meeting your duty-of-care obligations to your landlords via our comprehensive service and streamlined processes.
Every landlord in Australia has a legal obligation to ensure their property meets certain State and Federal smoke alarm legislation.
We make smoke alarm compliance hassle free by ensuring your obligations are met.
We provide a cost-effective and user-friendly service that will guarantee compliance and peace of mind.
We will also provide a compliance certificate once all electrical work has been completed.




Only
$125
/including GST
per smoke alarm +
a FREE central controller with every upgrade.
Contact us today and see just how easy we can make compliance for you. Beat the last minute rush and upgrade now. See why we only use the best.
Subscription
$99
/including GST
per year
Access all of the benefits of our fixed fee annual subscription and enjoy the peace of mind your smoke alarm compliance is in the best of hands.
Home Seller's Smoke Package
$99
/including GST
Are your sales listings smoke alarm compliant?
Save delays in settlement by being proactive and ensuring your sales listings have smoke alarm compliance certificates.
Only $125
(including GST) per smoke alarm
Our fixed pricing structure means there will be no hidden surprises or unwelcome bills at the end of the job. Smoke Alarm Compliance exclusively uses Red Smoke Alarms. All Red Smoke Alarms come with a 10 year warranty guaranteeing the smoke alarms for their entire life.
Installations include an exclusive central controller. The best invention since the smoke alarm! Finally a way to silence smoke alarms in the middle of the night.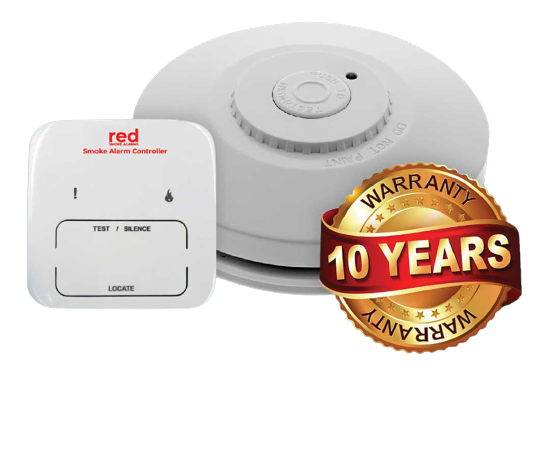 Subscription $99
(including GST)/year
When upgraded to meet the new Queensland legislation our client will be offered an exclusive membership offer.
This offer coupled with out unbeatable lifetime warranty guarantees your property complies with your ongoing AS3786-2014 legislative requirements.
Don't get caught out by installers offering an inferior product and warranty. Most other smoke alarms only offer a 5 year warranty, meaning if your smoke alarm that has a 10 year lifespan fails after the warranty period you could be up for expensive replacement costs.
With FREE replacement of any faulty smoke alarms, unlimited smoke alarm and SAFETY SWITCH inspection within a year, done by our QUALIFIED ELECTRICIANS. This membership offers complete peace of mind, maximising the safety of your investment property and your tenants.
Home Seller's Package $99
(including GST)
Are your sales listings smoke alarm compliant?
Save delays in settlement by being proactive and ensuring your sales listings have smoke alarm compliance certificates.
Smoke alarm compliance checks to either current or 2022 legislation.
For more information see the Queensland Fire & Emergency Services website.
upgrade your smoke alarms
Terms and Conditions
Thank you for using our services.
​By engaging Smoke Alarm Compliance Qld, you do agree to the following terms and conditions.
Service (Offer)
From 1 January 2022, New Queensland government legislation states property owners of rental properties will have stricter compliance requirements at law ("Compliance Requirements") with respect to smoke alarms. We offer to ensure the smoke alarms at the property are upgraded to comply with the Compliance Requirements ("Upgrade") on the basis of these Offer Terms and subject to the Exclusions ("Offer").
Upgrade Quote/ Offer
Smoke Alarm Compliance Qld is committed to honouring the price of an upgrade quote for 30 days from the quote issue date. If the quote is not accepted within the 30-day period, Smoke Alarm Compliance Qld reserves the right to issue a secondary quote if another installation price is required for the property.
The number of alarms quoted is based on the information available to us at the time of this quote and should be considered a likely indication of the amount of alarms required. If additional alarms are required they will be charged at $125 each, supplied and installed.
Upgrade Price
The Upgrade Price attached to this Offer is valid for 30 days from the quote issue date. This is the price per New Smoke Alarm install, as that term is described in these Offer Terms as:
Number of Bedrooms is used to calculate the total cost of the Upgrade for the property, and is calculated based on the total number of bedrooms (whether in use or not) including studies & offices, where those studies or offices could be used as a bedroom.
Total Property Upgrade Price includes required alarms in hallways and common areas (inclusive of GST) but does not include the cost of a switchboard upgrade (if required). We strive to ensure that all smoke alarms are the same brand as installed, if not, some may need to be changed over.
Total Bedrooms
You agree that we will determine the number of bedrooms (including studies and offices) at the property requiring smoke alarm installation to complete the Upgrade ("Total Bedrooms"), such determination to be made in our absolute discretion applying the Compliance Requirements then in force. The Total Bedrooms will be used to calculate the Upgrade Price for each property in accordance with the Upgrade Offer. to suit the incoming Queensland Government legislation at an additional cost.
Price of Smoke Alarms and Service Contracts
Smoke Alarm Compliance Qld reserves the right to update both the price of smoke alarm installations as well as annual service contracts at any time. All parties involved will be notified in advance of any such changes.
Promotion Offer (Free Controller).
When upgraded to meet the new smoke alarm legislation with our red smoke alarm system, If you require four or more alarms you will be eligible to receive a free smoke alarm controller.
Annual Subscription
The Annual Subscription Service commences on the date of the first inspection of the nominated property and is renewed annually on the first day of the corresponding month with invoices being issued on the 1st day of the 12-month subscription anniversary. These terms of service are repeated and apply
CANCELLATION OF OUR SERVICES
You can cancel your annual subscription at any time. Services will continue until the end of your billing period unless we are advised otherwise. To the extent permitted by law, payments are non-refundable, and we do not refund partial periods.
Acceptance of Offer
To accept the Offer, you must provide written notice to your property manager of your acceptance of the Offer,
Scheduled Period for Installation
When you accept the Offer, we will coordinate with Property Management to determine the install date.
Upgrade to 2022 compliance will be scheduled at the next available time slot as determined by Smoke Alarm Compliance QLD.
A Real Estate Agent must have the authority to approve the full value of the upgrade if signing on behalf of a Landlord and accepts the responsibility for the invoice cost if the owner declines payment or the property becomes no longer managed.
KEYS, Property managers' authorise us and our team or representatives to collect keys and access the relevant property for purposes of servicing / installing smoke alarms or other property compliance services. We confirm that we will return these keys to the place of collection. We do not accept any responsibility for these keys prior to them being collected or following their return.
Smoke Alarm Replacement
No liability is incurred during the period between determining that a smoke alarm is defective and replacing the smoke alarm. We have no responsibility other than to make reasonable efforts to obtain access to and replace the defective alarm. We have no obligation to make good any reasonable damage caused by the removal, relocation or installation of smoke alarms.
Work Orders and Work Requests
No liability is incurred during the period between receipt of a work order/request and our visiting the relevant property. We have no responsibility other than to make reasonable efforts to schedule in the request for our technicians based on current work loads.
Communication
Electronic communication carries with it the risk of inadvertent misdirection, security breaches or non-delivery. By using our services you consent to the use of electronic communication
Installation conditions
- CEILING HEIGHT
Current OH&S Standards require that our technicians do not work alone or without extra safety equipment on smoke alarms positioned on ceilings higher than 3m. We may need to provide such properties with a separate quote.
- ASBESTOS
Our policy is to not install hardwired smoke alarms in asbestos ceilings or walls, instead we will install a wireless (RF) option.
- FIRE PANELS
If the smoke alarms in the property are connected to a Fire Panel (FIP) that is managed or connected to the fire service we will not service these alarms
Existing Mains Connected Alarm
Where the property has an existing mains connected smoke alarm, in some circumstances, the Compliance Requirements will require it to be relocated.
Where relocation is required, our electrician will relocate the mains connected smoke alarm. Our electrician will make reasonable efforts to avoid causing damage, but please note, with relocations, there may be unavoidable residual damage from the original installation or from the relocation ("Plaster Damage") and we exclude all liability for Plaster Damage arising out of the relocation works. Additionally adding an RCD/Safety Switch may expose pre-existing wiring or installation issues within the dwelling. Smoke Alarm Compliance Qld is not responsible for the rectification of any pre-existing electrical issues. Please note that hardwired smoke alarms can only be installed where there is ceiling space/access and no asbestos. If space and or access is limited or asbestos is present Smoke Alarm Compliance Qld will install the alternative method being a 10-year non-removable battery smoke alarm (no requirement to replace the battery for the life of the alarm) compliant with (AS) 3786-2014.
Exclusions
The cost of a switchboard upgrade required in order to support the relocation of a mains connected smoke alarm and/or any costs to repair Plaster Damage are specifically excluded from this Offer.
Our Obligations
Where you accept the Offer and upon completion of the Upgrade, we will provide a certificate of compliance with the Compliance Requirements in respect of the Upgrade.
COMPLIANCE REPORT
A smoke alarm compliance report is prepared upon an onsite assessment and is issued with every service offered by our company. It is prepared upon an observation of any existing and or new installations and is issued as evidence of what was observed during the inspection for the owners' records. This is not a legal document or a requirement under the Building Fire Safety (Domestic Smoke Alarms) Legislation Amendment Regulation 2016. Our company does not accept liability in the event of incorrectly recorded information.
A building compliance certificate, or other construction or renovation safety certificate issued by another body or entity, does not necessarily mean that the smoke alarms and smoke alarm installations are compliant with the standards and regulations for smoke alarms and smoke alarm installations in force in the State or Territory where the enrolled property is situated.
Similarly, a report indicating that the smoke alarms or smoke alarm installations are not compliant does not necessarily mean that a building compliance certificate, or other such certificate, is not valid.
Your Obligations
Upon completion of the Upgrade and issue of the certificate of compliance, you expressly authorise your agent to pay Smoke Alarm Compliance Qld the balance of the Upgrade Price, being the Upgrade Price applicable to the property, less the Deposit.
INVOICING AND PAYMENT
Unless otherwise agreed in writing the Contractor's payment terms are strictly seven (7) days from the date of the Contractor's tax invoice.
Failure to pay an invoice may result in a suspension of our services to you and your work orders may be placed on hold until payment is received.
If you fail to pay an invoice within a reasonable time, a debt collection agency will be appointed
Payment Claims
Where applicable the Contractor shall make a payment claim in accordance with The Building and Construction Industry Payments Act 2004. The Customer must respond appropriately and within the time specified in the Act.
Disclaimer of Liability
The Contractor disclaims all conditions and warranties expressed or implied, and all rights and remedies conferred on the Customer, by statute, the common law, equity, trade, custom or usage or otherwise and all those conditions and warranties and all those rights and remedies are excluded other than any Non-excludable Rights. To the extent permitted by law, the liability of the Contractor for a breach of a Non-Excludable Right is limited, at the Contractor's option, to the supplying of the Goods and Services again or payment of the cost of having the Goods and Services supplied again.
Limitation of Liability
If you are not a consumer within the meaning of Schedule 2 of the Competition & Consumer Act then this clause applies to you. If you are a consumer within the meaning of the Competition & Consumer Act then this clause has no effect whatsoever to in any way limit our liability or your rights. If you are not a consumer:
To the full extent permitted by law, our liability for breach of an implied warranty or condition is limited to the supply of the services again or payment of the costs of having those services supplied again.
We accept no liability for any loss whatsoever including consequential loss suffered by you arising from services we have supplied.
We do not accept liability for anything contained in the post of a user or in any form of communication which originates with a user and not with Us.
We do not participate in any way in the transactions between our users.
Warranty
Smoke alarms provided through this offer come with a 10 year manufacturer warranty.
For further clarification or more information, please contact Smoke Alarm Compliance Qld.
GOVERNING LAW AND JURISDICTION
These terms and conditions are to be governed by and interpreted in accordance with the laws of Queensland.
If any provision in these terms and conditions is invalid under any law the provision will be limited, narrowed, construed or altered as necessary to render it valid but only to the extent necessary to achieve such validity. If necessary the invalid provision will be deleted from these terms and conditions and the remaining provisions will remain in full force and effect.
Each of us irrevocably and unconditionally submit to the non-exclusive jurisdiction of the courts of Queensland, and any courts that have jurisdiction to hear appeals from any of those courts, in respect of any proceedings in connection with our service engagements.
Each of us waives any right it has to object to an action being brought in the courts of Queensland including by claiming that the action has been brought in an inconvenient forum or that those courts do not have jurisdiction.